Nine Las Vegas pools are classified as "toptional," meaning topless sunbathing by women is allowed (if not encouraged):
Click the Pool name to find out more:
#1 Toptional Pool Party in Las Vegas
Mandalay Bay (Moorea Beach Club) See Image here, this is an amazing toptional pool party. All ages, great people to meet.
March 13th 2020 – October 18th 2020
All Pool parties are closed until further notice because of COVID19  We will update when pools are back open.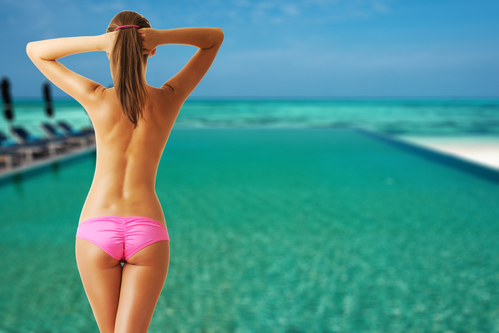 Other Toptional Pool Parties in Las Vegas
Most charge admission fees for non-hotel guests.  Search on your phone and call for more info.  Some have regular events also that are not topless.   All pools require that you are 21 to enter.
Other Pool Parties
Flamino Go Pool Party
7 days  a week May – Sept. Opens at 9am
DJ from Noon to 5pm.  Free everyday for Guests and the Public, except Saturday Public  Guests pay a cover.  You may want to call,  women are always free but sometime men pay a cover charge.
Grand Hotel – Downtown Old Vegas – Night Pool Party
4 Nights a week from 7pm to 11pm on Thursday, Friday, Saturday and Sunday
Pool on 3rd floor, must be 21 to Enter,  beautiful pool, great food and fun DJs. Free to enter.
» Discover more events in the region on our full EDM Event Calendar.